OK, so my main memory of UTR is of unbearable heat! Heat, and mosquitoes thinking I'm the best thing since sliced bread! But perhaps my other memory is the one that will last - spending time with some amazing people! The chance to play dress up all weekend, in the best company, has got to be worth the heat and bugs!
The only trouble is, it was so hot I didn't get around to taking very many photos. But I have a sample of my favourites, and will attempt a little write up as well, all
So, Mummy put me on the train in Wokingham at 4:30 On Wednesday morning, I got to Gatwick at 6, 3 hours before my flight to Atlanta. In Atlanta I had 7 hours to wait for my flight to Richmond, and I finally got off the plane in Richmond at 9 something at night. Luckily
koshka_the_cat
was there to meet me, because I was so tired by then that I was ready to burst into tears! We had to wait for the shuttle, and when we got to the hotel the check in desk was closed, so we had to go to another hotel to check in. But luckily the shuttle driver was still there, so no heavy bags to shift! Anyway, we finally got to our room at 11:30, I think it was, needless to say, I was a little tired, and no wonder, Katherine pointed out I'd been awake for 24 hours!!
So Thursday, we toured the Historical district in modern clothes, doing the tourist bit in marginally more comfort. In the evening we went to the theatre to see Polly Honeycombe, a fabulous 18thC comedy. It was very funny, we were encouraged to cheer and boo to our hearts content! The set was great, and the costumes were lovely, I especially liked a peach satin banyan her father wore over a very snazzy brocade waistcoat :) After the play, we were looking for something to eat, and found everywhere closed! So we went back to the room and continued a costuming event tradition - pizza delivered to the hotel room!
Friday was a teeny bit cooler than Thursday, a good thing as we were dressing for the first time! I was hot before we even left the hotel room! ON the way out we saw
ktlovely
and
dandytailor
arriving from their road trip, it was so great to finally meet! They had lots of sewing to do though, so we arranged to meet up in the evening for supper, when
idlewild_grey
was off work. The walk to the Historical centre seemed endless! It was so hot I didn't take any pics at all during the day! We spent a great deal of our time in the Milliner's shop, looking at pretties and keeping cool! In fact, I had to sit in there for about half an hour, while Katherine was outside watching the soldiers march in, I was feeling very odd, and needed to cool down before going back to the hotel! We were both so relieved to find we both like to have a rest in the afternoons so we both made our ways back (both of us via starbucks of course!) to rest for the afternoon, before it was time to go out for the evening's activities. We popped into a small party in the common room of an inn before heading back to the market square to squeeze into Katie's car to go to dinner. Miracle of miracles, I actually managed to get a photo on the way!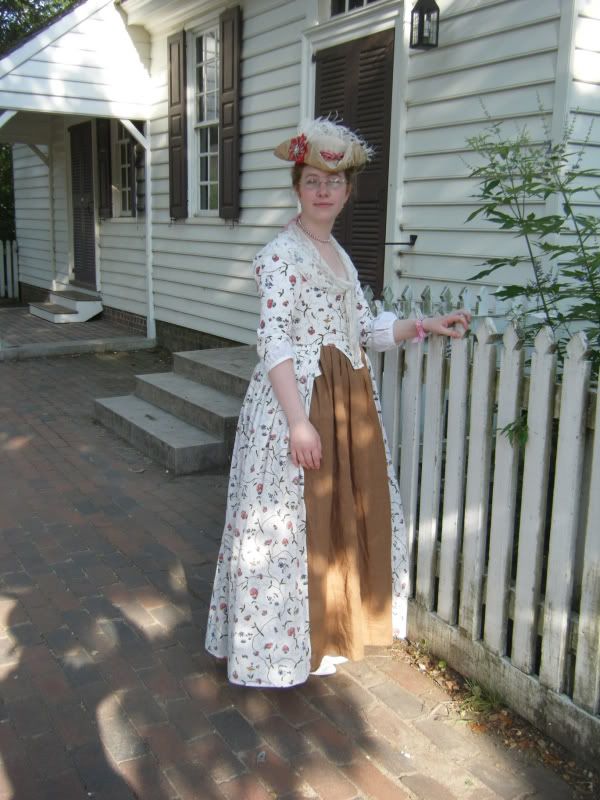 It's not a very flattering picture, but it's the only one!! Dinner was lovely, and getting to chat with friends for the first time was wonderful! We all went for a walk afterwards, I had hoped it would be cooler in the evening, but not so much!
Saturday we were expecting
sadievale
and
girliegirl32786
to join us early afternoon, and had planned to join the lawn bowling in the afternoon, and were going to a picnic in the evening, so we decided to go out around lunch time, and stay out, instead of going out in the morning and going back for a rest. We figured we could always cool off in Starbucks! Stephanie joined us in the hotel late morning, and we had a good costumers conflab before heading out, rather later than planned! We stopped at Chownings tavern to book a table for lunch, then went to see what
sarahnucci
was up to.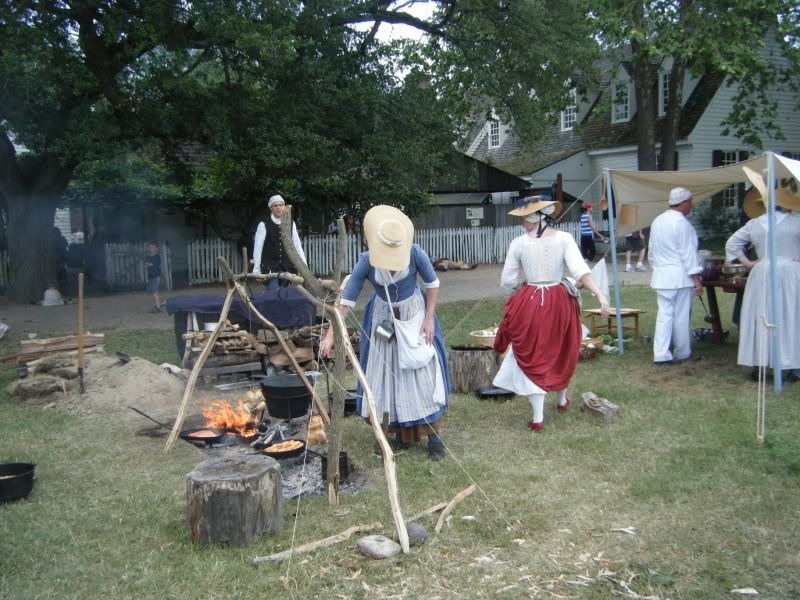 I must say, I am amazed she could do what she did all weekend! While she was cooking and serving out in the intolerable heat we were just sitting down to a delicious lunch!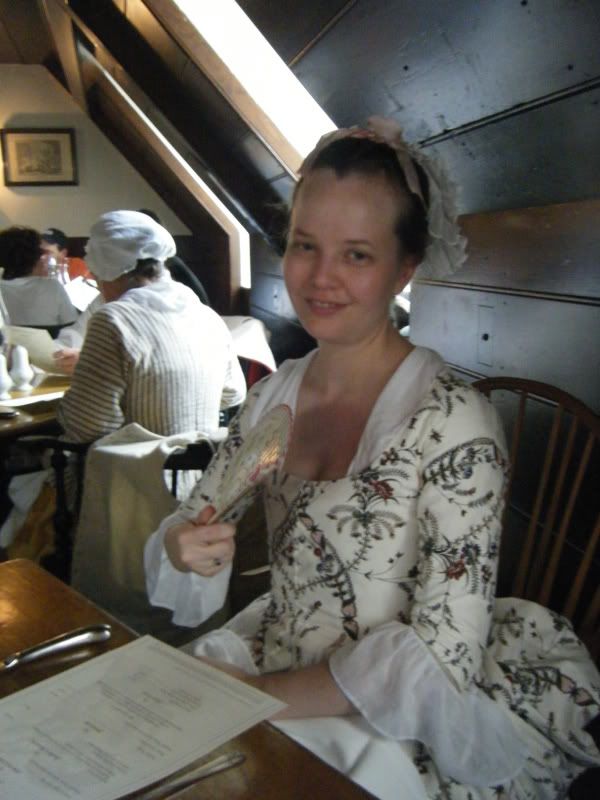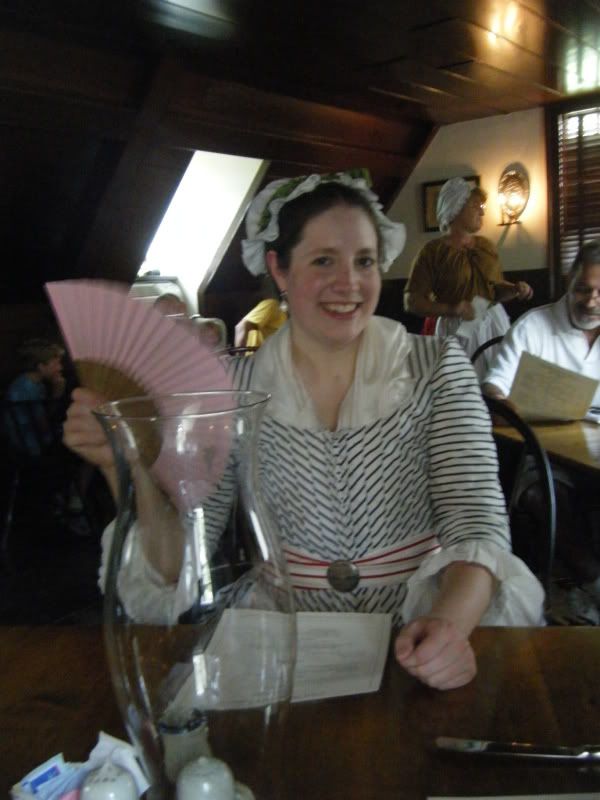 When we got to the lawn bowling they must have packed up and gone home already, we were rather more than fashionably late! Anyway, we then went back to Starbucks before heading out to the picnic.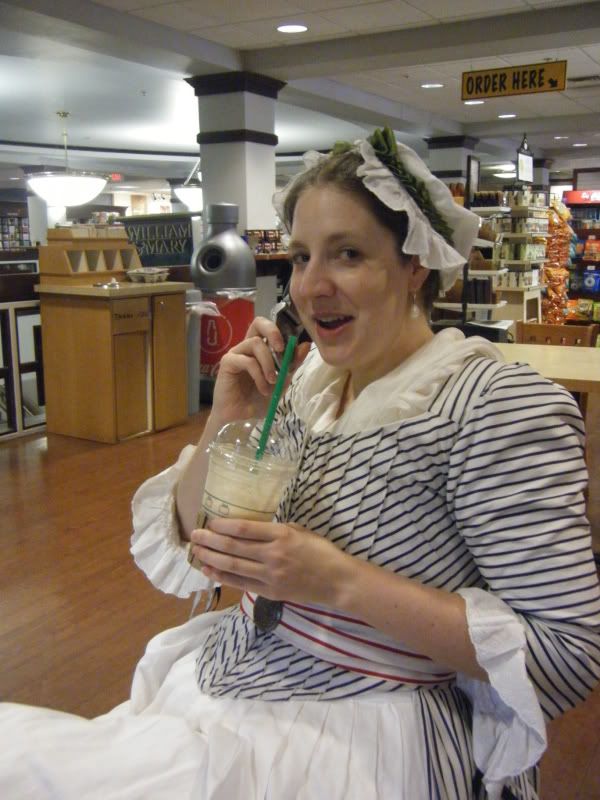 This was a very common site during the weekend!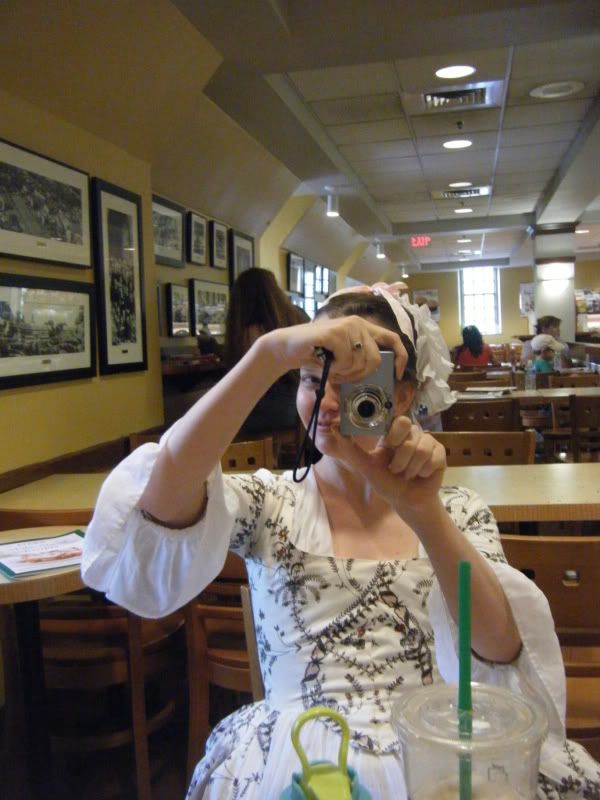 Once Aubrey had arrived we got some bread and cheese and dried fruit for the picnic and headed back out into the heat again. Once again, I was too hot to think of taking any photos! It was during the picnic that I got the first lot of bug bites!
Sunday we decided to go to the museum (air conditioning!) to start with, then we planned to look through the Historical centre (it was Aubrey's first trip, but unfortunately, it was just too hot to see as much as we wanted to) before meeting up with
jennylafleur
sometime in the afternoon to get ready for the tavern dinner. We had the sense to use the hotel shuttle to get to the museum, and then we got the bus to the end of Duke of Gloucester Street. I'm afraid I didn't get any photos, again! We visited the milliners again, but it was being a tailors for the day, so no-one to get the pretties out for us! I think the best thing about the milliners though, was the men's buttons I drooled over each time I was there!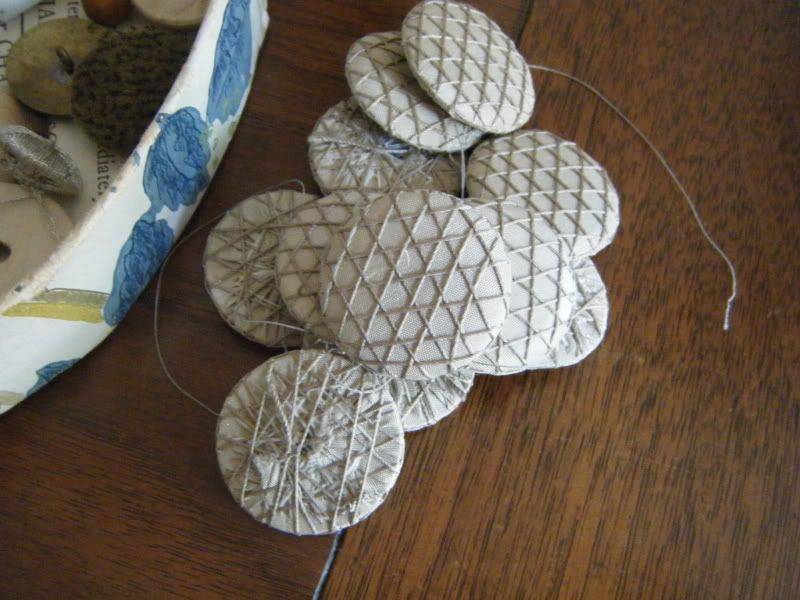 After Jenny-Rose arrived we went back to the room to get ready. How we managed to be ON TIME I have no idea!! 5 costumers can talk a great deal when they get together in one room!!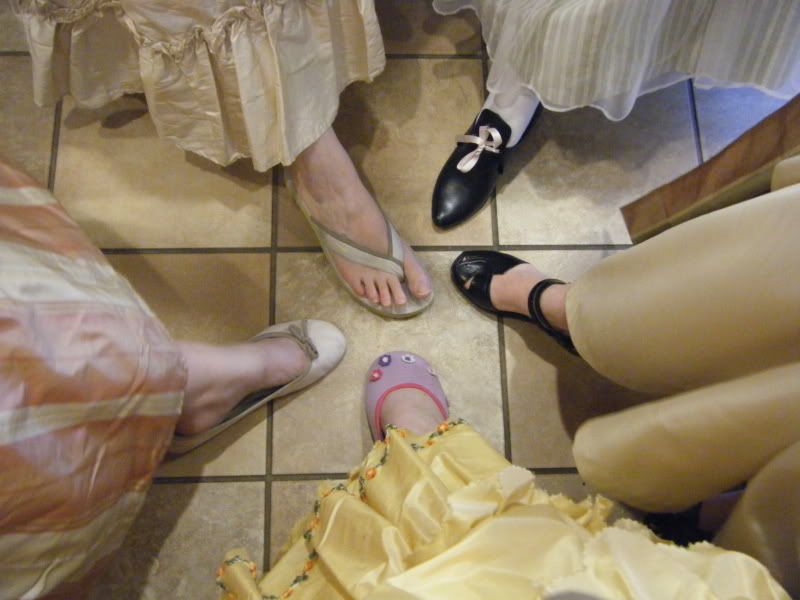 The traditional shoe shot, with some rather un-conventional footwear ;) we were all so hot and uncomfortable, that footwear (which you can hide under your skirts) had to slip! We got the hotel shuttle again, and killed time taking pics before the others arrived.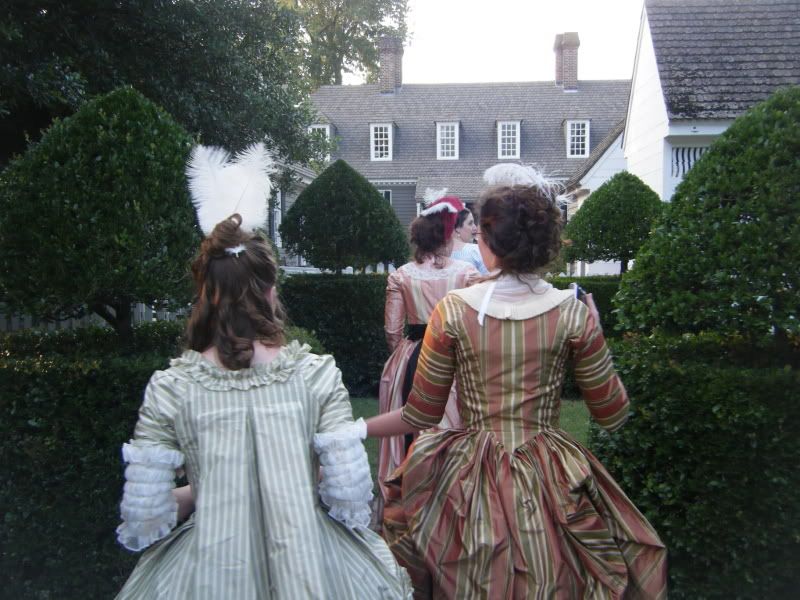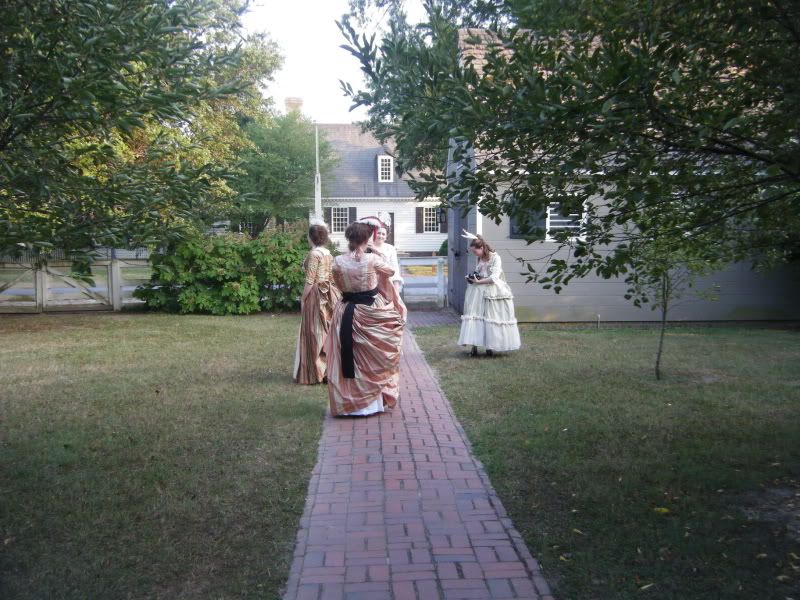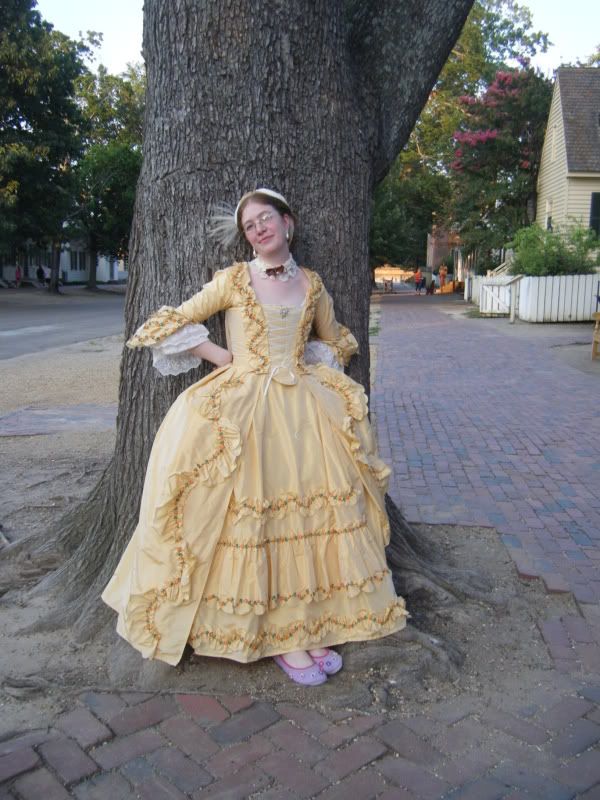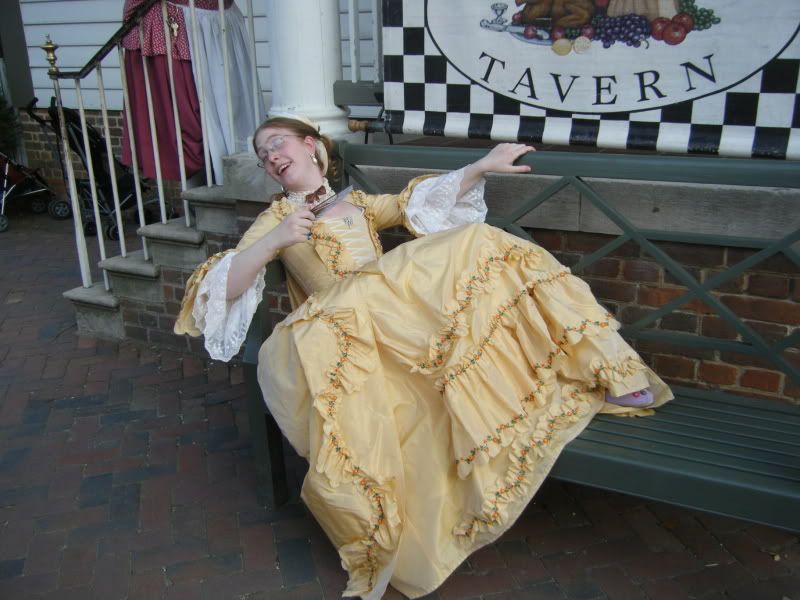 The tavern was wonderful, candle light, reproduction crockery and wonderfully large napkins!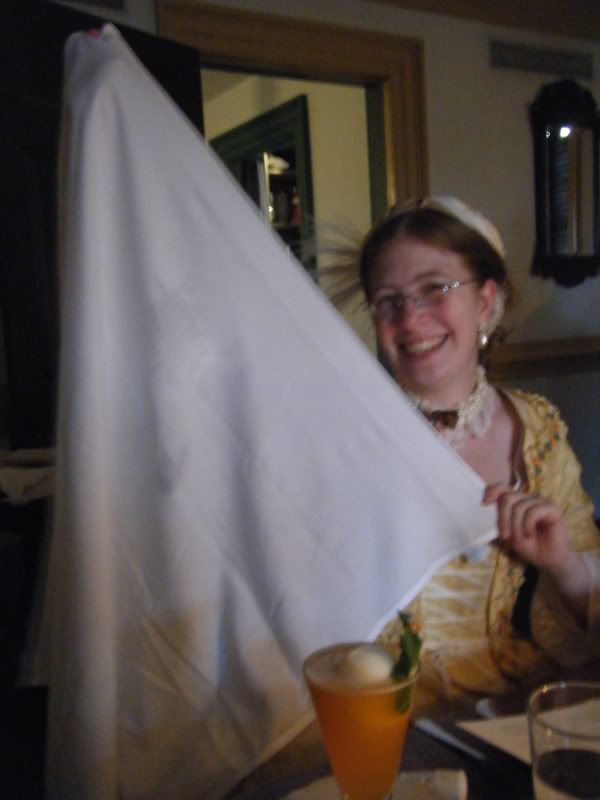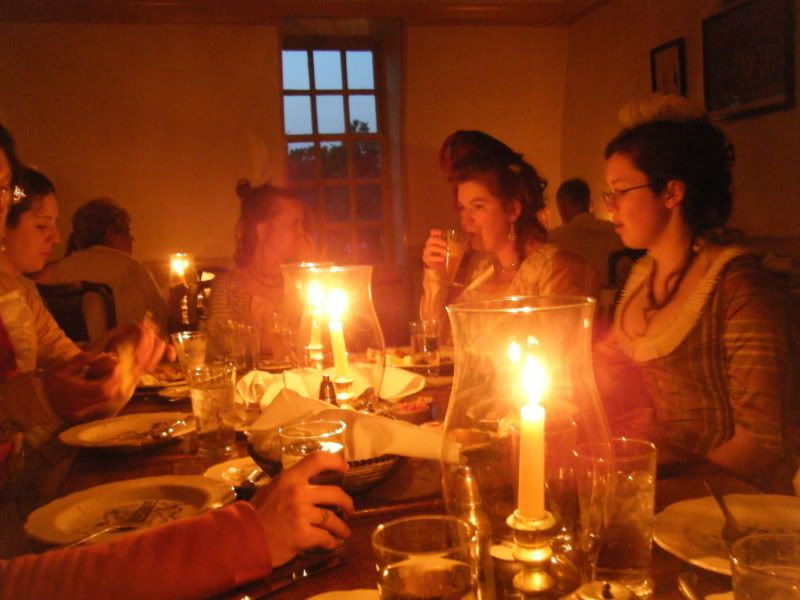 I had a fruit shrub, they brought dishes of 'a relish to whet the appetite' and a very tasty salad. For pudding I had pecan pie, it had to be done!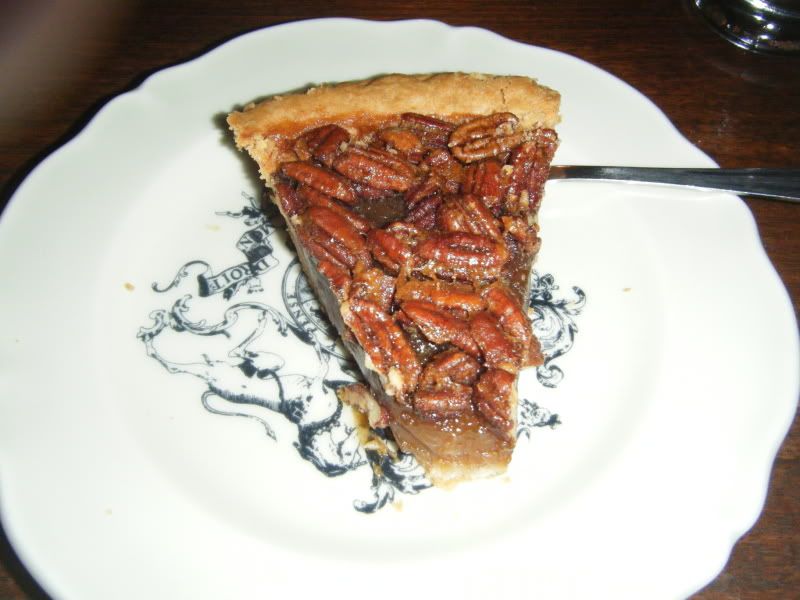 After dinner we all walked back to the hotel, and chatted into the small hours!
Next morning was time to check out and head for Jenny-Rose's house, but we couldn't leave without one more stop at our home from home :)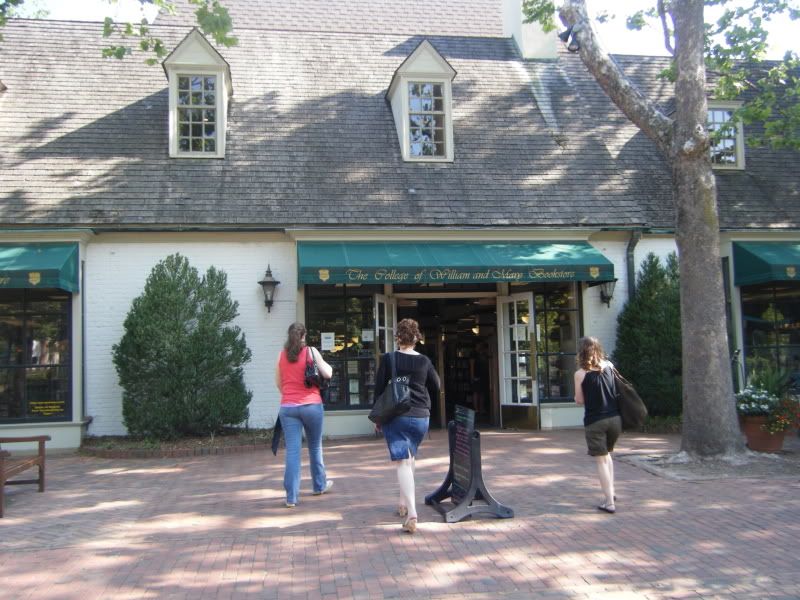 Wow this got long! If you managed to get this far, give yourself a pat on the back!!
So much for a little write up, this got HUGE! Jenny-Rose's picnic will have to wait till tomorrow I'm afraid! Hopefully, more photos, less waffle!!
Current Mood:
sleepy